For Ethanol Extraction Centrifuge, Cedarstone Industry works to provide you the best equipment in the current market. Our extraction machines operate on a large scale all across the United States to aid our clients with the highest grade extraction systems for their extraction process. We provide ethanol extraction systems for companies all over the nation so that more Americans can enjoy superior CBD, cannabis oils, and other essential oils. Our range extends to more than just ethanol extraction. We offer products and equipment for many extraction systems for alcohol extraction and cannabis extraction. No matter how large or small your company is, our sales representatives work with you to get the right tools for whatever job you may need them for. Give our offices a call at (281) 397-3700, so we can start helping you today with your ethanol extractor needs.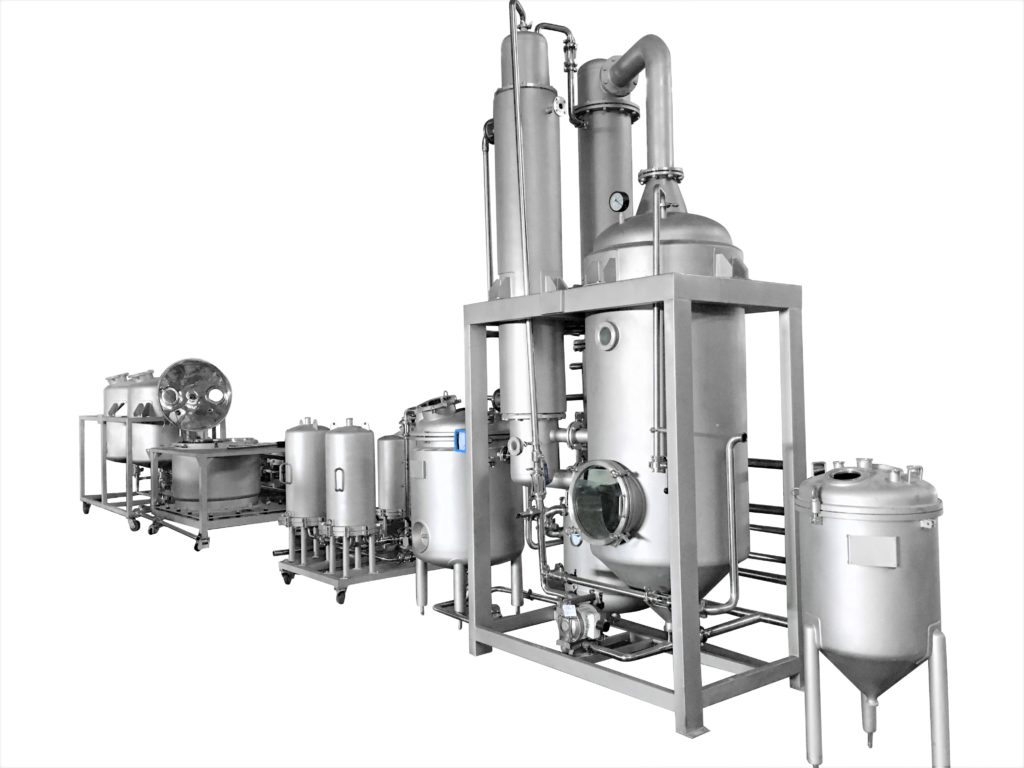 We Know How Important An Ethanol Extraction Centrifuge Is
At Cedarstone Industry, we see the value in quality control. That's why we have a team of expert designers, builders, and engineers working their hardest to deliver the best centrifuge equipment to all companies who need them. The plant material you use should be processed and extracted with the highest quality of centrifuge. When deciding which manufacturer provides the best machine, Cedarstone Industry shows its experience.
Cedarstone Industry uses its 20+ years of experience in manufacturing to create centrifuges to your requirements. Our client list starts with various small breweries and reaches as far as Coco-Cola and Blue Bell Creameries. We work with the mindset that the relationship between client and staff is of the utmost importance. As a result, our team of dedicated sales representatives works to ensure we have a strong bond with our clients. We believe that the key to a successful partnership is mutual respect for each other and trust in our products. At Cedarstone Industry, we understand that your business comes first, so we push ourselves to provide superior service. That way, you can focus on operating your business, and we can focus on giving you the best tools to do that.
Why You Need A Centrifuge
Centrifuges have a major role in many companies that deal with a variety of solid and liquid-based products. Businesses use centrifuges to extract fluids from different densities. Therefore, our machines extract liquid cannabis oils and other essential oils from the solid plant material. The machine itself is a container that rotates at high-speeds and uses centrifugal force to separate the fluids from the solid material. This allows your business to extract the fluids to maximize purity.
Cedarstone Industry's stainless steel centrifuges operate using the highest quality parts. Our centrifuges use a cold ethanol extraction method to provide greater CBD results. These machines place the biomass in the rotor with the low-temperature ethanol so that the ethanol can collect the extracted compound. If using the wrong equipment, this process can be very time-consuming. As a result, Cedarstone Industry creates its centrifuges with components made to improve its performance.
Our goal is to ensure that your centrifuge operates safely and efficiently. In order to do that, we manufacture our machines to meet the standards and GMP requirements. We also include a sealing structure designed to give the device reliable sealing for the bearing. Make sure to check out our centrifuge extractor details for more information.
We Do Other Extraction Equipment Too!
That's right; Cedarstone Industry offers services ranging from providing equipment to installing the machines to your requirements. In addition to centrifuges for ethanol extraction, we also offer tools for different ethanol extracting methods.
Chromatography
Separating THC from CBD can be tricky. Which is why Cedarstone Industry offers equipment for isolating and purifying cannabinoids. This process is very common in the cannabis industry, and these devices are used often. That's why we make these machines using stainless steel and no dead corners so that it remains durable and sturdy for regular use.
Decarboxylation
This process involves using heat to enhance the CBD or THC content. Once the process is complete, the THCA becomes THC, and CBDA becomes CBD. This process can be dangerous if handled with the wrong equipment. That's why Cedarstone Industry designs its machines for safety and ease of use.
Distillation
Cedarstone Industry focuses its distillation tools around molecular distillation. Instead of the common boiling point method, this process uses liquid-liquid separation technology. Our machines use the Wiped Film Evaporator System (WFE) to draw heat from the jacket consistently. For full details on the method, read about our molecular distillation systems.
How Cedarstone Industry Fulfills All Your Requirements
It's not enough to just provide the pre-made equipment for your business. Sometimes the tools need to be a specific way. Our engineers and designers work with you to match your required designs. As long as it's within the standards for correct use, we'll manufacture your tanks and other tools on how you need them. In addition, we offer other services, such as tank polishing and insulation.
Apart from extracting materials, Cedarstone Industry offers machines and equipment for sanitation and food processing equipment. We also offer a number of tanks for mixing, storing, and fittings.
We Want To Make Your Business Better
Our experts help you shape the best version of your business by implementing superior equipment for your ethanol extracting. Our business purpose is to satisfy our clients with greater tools and services than anyone else can provide. Whether it's for ethanol extracting, brewing, storage, or sanitation, Cedarstone Industry operates with the goal of improving our relationship with our clients. Therefore, we find it to be of the utmost importance to show our partners how great our quality equipment is.
When it comes to your ethanol extracting, the equipment is possibly the most important aspect. Make the decision that will benefit your business the most by choosing Cedarstone Industry today. Additionally, we'll work with you to get the best prices and service for every need you have. For more information and details, contact us and get your ethanol extraction centrifuge now!