Cannabis Extraction Equipment
Cedarstone Industry has years of experience developing high-quality cannabis extraction equipment for operations of all sizes. Designed by our own in-house staff of engineers, our collection is built to outlast and outperform other cannabis oil extraction equipment on the market. We manufacture and install every facet of cannabis processing equipment you could need, including equipment for distillation, chromatography, crystallization, filtration, and drying. We also offer turnkey solutions for those looking to overhaul their efforts and who require a significant amount of cannabis extraction equipment.
Cannabis processing equipment carries out oil extraction by employing a number of major steps.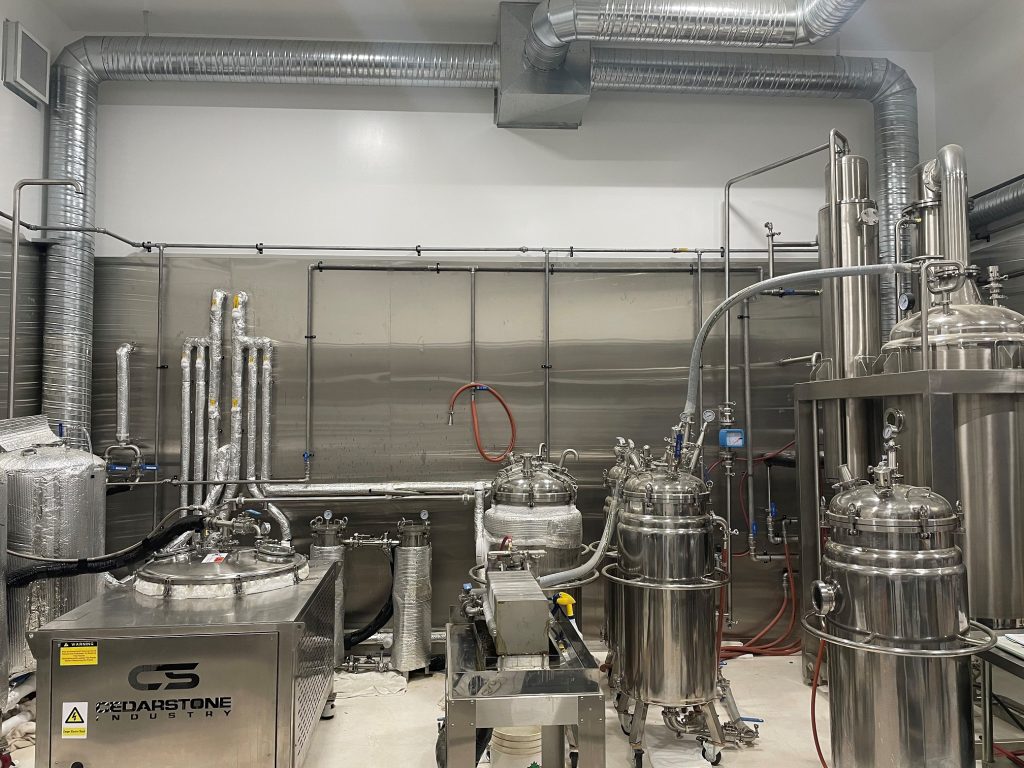 Extraction Major Steps
Extraction – During this process, biomass is placed inside extraction vessel with a solvent (Ethanol, C02, etc.) to remove soluble components, followed by filtration and separation process. The solvent then needs to be recovered from dry biomass, typically done with a centrifuge.
Centrifuge Extractor – Put biomass inside the rotor, fill the rotor with chilled ethanol, agitate the rotor barrel with biomass inside bidirectionally to extract, and then spin at high speed to get the extracted compound with ethanol.
Winterization – Separation of lipids from solution via solubility reduction via cold crashing followed by filtration. Typically done in beakers in a freezer, can also be accomplished in a filter reactor. This step can be skipped if initial extraction was done with pre-chilled solvent at a low temperature, such as -50 degree C.
Solvent Recovery – It is the step to separate cannabinoids from the solvent, typically via vacuum-assisted evaporation. Typically done in a Rotary Evaporator (RotoVap), Falling Film Evaporator (FFE), or Rising Film Evaporator (RFE)
Decarboxylation – Enrichment of THC or CBD content is typically performed. Quantities of non-psychoactive Δ9 (THCA) in the plant matter can be converted to THC by exposure to heat. Heat facilitates decarboxylation (a chemical rearrangement which expels carbon dioxide), transforming THCA to THC, CBDA to CBD.
Distillation – In this process, the separation of cannabinoids from impurities (Terpenes and plant material) via vacuum-assisted evaporation. Typically done on a Short Path Mantle based still (SPD, batch process) or a wiped/rolled film evaporator (WFE, continuous flow). The liquid or component is isolated by selective heating, vaporization, and condensation. Vacuum Distillation is the process that uses distillation under reduced pressure. Placing a liquid mixture under vacuum enables the distillation process to occur at a lower temperature. This lowers the liquid boiling point, increases the rate of distillation and reduces exposure of temperature-sensitive components.
Crystallization Reactor – The special process used to achieve very high purity CBD on a large scale without complex equipment. Dissolve the clear CBD oil that has already been winterized and distilled in near-boiling heptane or pentane and allow to cool slowly to grow crystallized CBD.
Chromatography –  a method to isolate and purify cannabinoids, is often used in the cannabis industry to separate THC from CBD.
Disclaimer : Any specific conditions noted for the operation of equipment sold by Cedarstone are merely exemplary, except where designated for safe operation of Cedarstone's equipment. Cedarstone's equipment may be used in a variety of different conditions that may achieve different outcomes. Cedarstone does not encourage or direct customers in the specific operational conditions that may be required to achieve its customer's designated purposes