Ethanol extraction is one of the best methods to extract CBD from the cannabis plant. If you're looking for the best equipment to perform your large-scale ethanol extraction, call Cedarstone Industry. We fabricate custom stainless steel equipment for commercial cannabis extraction. Our high-quality equipment will produce successful extractions for your booming business for years to come. On the other hand, if you're new to cannabis extraction, keep reading below. Once you've finished with this article, you can find more information about extraction equipment on our website. In no time, you'll see why ethanol extraction is a great method. Hopefully, you'll soon order your equipment from Cedarstone Industry!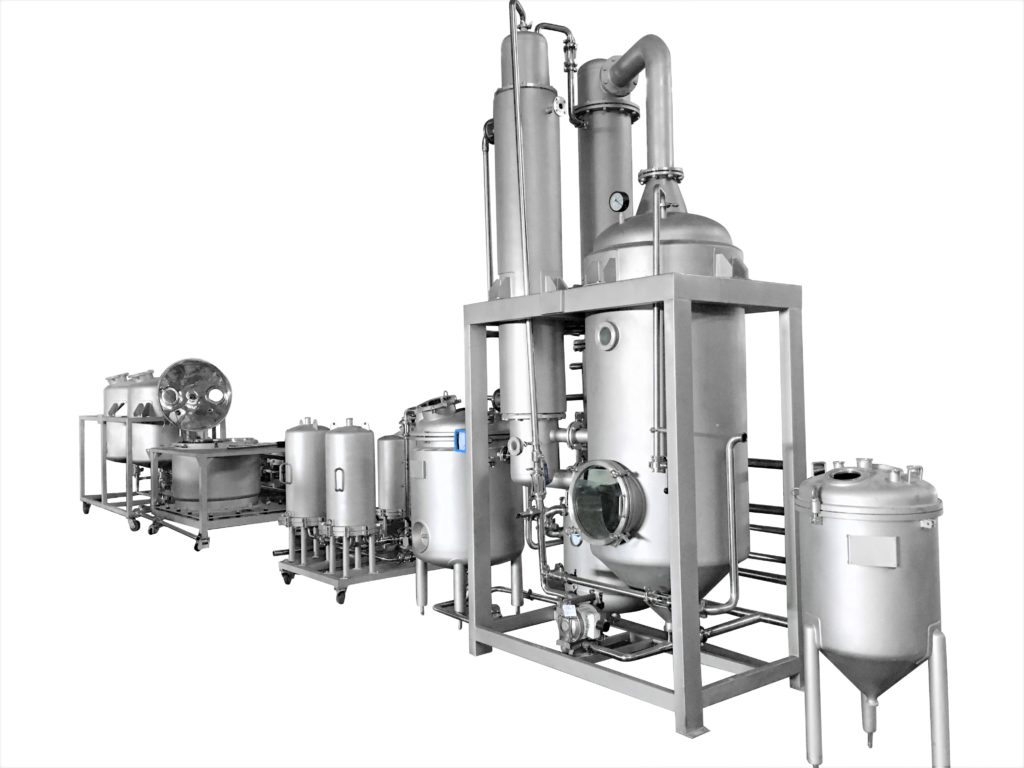 Extraction Methods
Ethanol extraction is but one way to extract CBD and THC from the cannabis plant. The other popular methods are carbon dioxide extraction and butane extracts. Each strategy has its own pros and cons. At Cedarstone, we believe that the ethanol extraction process is better than the others. However, no matter which method you decide upon, make sure only to use high-quality equipment. When it comes to commercial extraction, you owe it to yourself, your customers, and the entire cannabis industry to make sure you get it right. Extraction equipment can get quite pricey, especially supercritical CO2 extracts. Nevertheless, if you sacrifice on the quality of your equipment, you'll also be sacrificing the quality of your product.
Carbon Dioxide Extraction
Those who use CO2 extraction tend to find the equipment worth the hefty price. However, many emerging entrepreneurs don't have the budget for that type of equipment. With the carbon dioxide extraction method, high heat and pressure turn the gas supercritical. This results in higher yields than you might experience with other extraction methods.
While we do build pressure tanks for a variety of commercial uses, Cedarstone Industry does not manufacture CO2 extraction equipment. We make it our mission to provide high-quality, yet affordable equipment for product manufacturers at all stages of their business. For a fraction of the cost, you can find similar yields using other extraction solutions.
Butane Extraction
When using this extraction method, the butane (or propane) is pressurized and heated. The end result of butane extraction is a translucent, solid material known as "shatter." If you are extracting CBD, you probably don't want to use this method, especially not as your only means of large-scale extraction. For one, there is a high risk of contamination. On top of that, the process is quite complex, relatively expensive, and uses hydrocarbon extraction solvents. These solvents must be handled with care and disposed of properly.
Ethanol Extraction
Of all the extraction techniques, the ethanol method offers the best of both worlds. It provides great results for a moderate price. During the ethanol extraction process, alcohol is used to soak up the desired product; for example, CBD. Then, the alcohol is separated from the substance through evaporation. What you're left with is the cannabis oil.
Thought the process sounds deceptively simple, there are some things you have to watch out for. The ethanol can possibly extract plant material as well, so your product will have to go through post-processing to ensure its purity. Additionally, as you may have guessed, ethanol is highly flammable. You must be very careful when extracting substances using any method. However, the ethanol extraction system itself should feature components that reduce the risk of fire. Nevertheless, the risk is still present.
Regardless of the potential downsides, ethanol extraction is an inexpensive extraction method that produces consistently great results. If you're looking for an ethanol extraction system, look no further than Cedarstone Industry.
Types of Extraction Equipment
Hopefully, you can see why ethanol extraction offers the best value for your business. However, the decision about which system to use doesn't end there. At Cedarstone Industry, we actually manufacture quite a few different types of extraction equipment. Feel free to explore our product line and contact us if you're not sure which system would be best for your business.
Turnkey Extraction System
As a manufacturer of both vessels and hardware, Cedarstone Industry can provide every piece you need for your extraction system. Our complete, ready-to-use systems include all the ethanol tanks you need, as well as a filter, distillation tower, pumps, and an ethanol recovery concentrator. Intended for large-scale commercial use, our extraction tank sizes start at 100L large. This equipment can selectively extract cannabinoids and terpenes, leaving you with the precise final product that you want.
Centrifuge Extractor
Designed for low-temperature extraction processes, our 316L stainless steel centrifuge extractor meets all the necessary standards to run a legitimate cannabis business. This extractor includes a touchscreen display, automatic valves, and fully adjustable agitation settings. With no dead corners and secure sealing, this machine is intended for high-speed operation and fast cleaning.
Molecular Distillation System
Molecular distillation is amongst the safest methods of extraction. This versatile equipment can distill botanicals, cannabis, and essential oils with ease. The system also purifies the substance after extraction. We fit our molecular distillation systems with a number of high-performance settings and controls, on top of easy cleaning and reassembly.
Crystallization Reactors
Cedarstone Industry crystallization reactors meet all applicable ASME codes. This machine can purify CBD as well as crystallize the substance through a slow-cooling process. Ranging from 60 to 5,000 gallons, we can build your reactor to fit your volume requirements. Constructed only with sanitary fittings and seals, like all of our other equipment, this high-pressure vessel can be used to produce ingestible and consumable products.
Chromatography Equipment
This high-performance equipment efficiently separates elements at the microscopic level. Our chromatography equipment meets the standards of the FDA, GMP, and cGMP. Efficient, pure, and automatic, this unit can make your job—and your business—much more manageable.
Call Cedarstone Industry
When you select Cedarstone Industry as your supplier of Extraction Equipment, you take a load off of your own shoulders. For one, the search is essentially over. If you don't see the precise equipment you need, we can build it for you. Let us know about your unique space or storage requirements. We'll construct a turnkey system that fits into your workspace without obstructing efficiency or safety. Our high-grade equipment is durable, efficient, and easy to clean. Contact us online or by phone at (281) 397-3700 to learn more about our full spectrum of stainless steel cannabis extraction equipment.