Do you know how to find the best stainless steel tanks for sale? If you're involved in the food or beverage industry already, you may have heard of Cedarstone Industry. We have provided steel tanks for manufacturers for over two decades. However, perhaps you prefer to conduct your own research. Do you know what to look for in a stainless steel tank? We're confident that our tanks will stand up to even the most rigorous tests.
Our equipment is high-quality and built with the manufacturer in mind. That being said, you can even purchase fully custom options from Cedarstone. Whether you choose one of our standard options or you desire a personalized tank or system, we can assist you.
Stainless Steel Tanks For Sale
What Type of Stainless Steel Tanks For Sale Do We Offer?
At Cedarstone Industry, you can find just about any stainless steel tank for sale that you can imagine. We mean that literally because we offer a wide range of customization options. Furthermore, our large inventory of products includes options that vary in shape, orientation, and capacity. From our 2o gallon-capacity mixers to stainless steel storage tanks that exceed 100,000-gallon capacity, you can produce more than enough of your food or beverage in our tanks.
In addition to size, the shape of our tanks varies as well. Our cone-bottom options are perfect for beer fermentation. The cone shape allows the brewer to easily remove the yeast from the tank once it falls to the bottom during the fermentation process. On the other hand, businesses in another industry may prefer a flat bottom, dish bottom, or center bottom tank. We also have a tilt bottom option that allows the non-liquid contents to be pushed to one side for easy removal.
If you need insulation for your food or beverage, you can purchase one of our many jacketed storage or mixing tanks. On the other hand, a single wall tank may suffice if the temperature will be controlled by another means, or isn't vital to the quality of the product.
We offer so many options because we know that each business is unique. We seek to offer storage and mixing solutions for as many commercial businesses as possible. We offer an impressive range of products.
How to Choose a Stainless Tank for Sale?
The easiest way to choose which of our stainless steel tanks to install in your place of business is to ask us for assistance. We can take note of your size requirements, available space, and other factors. Then, we can suggest just the right system for you. If you're new to the brewing industry, you might benefit from our brewery consulting. Our consulting is a more hands-on approach to launching or re-launching your business. However, if you've got a general idea of the direction to take your business, we can offer specific product recommendations to help you get started.
In fact, you can select a tank or brewing system much in the same way that we would make a selection. Consider your needs, and choose from our many options. We're more familiar with our products and can save you the most time when making a decision, but you can also cover a lot of ground yourself before you even call us.
Type
The most basic decision is regarding which specific type of tank you need. A storage tank and a mixing tank are quite different. Similarly, a fermentation tank has much more specialized features, as does a steamer cooker cooler. What type of product are you manufacturing? We have tanks that can help you ferment, cook, and preserve a range of materials. Dry food, perishable food, beer, wine, chemicals, medicine, and oils each benefit from a specialized type of tank. Fortunately, we have them all at Cedarstone.
Size
Next, you have to pick the best size for your business. You want to select a tank that will be big enough to allow room for growth and expansion as your business takes off. However, you want the tank to not be so large as to be a waste of space, money, and efficiency.
Special Features
Lastly, you'll get to pick your special features. You don't necessarily need all the bells and whistles. However, temperature and pressure controls can help a great deal when it comes to quality assurance and recipe consistency. Additionally, some of our tank features simplify your business. For example, our clean-in-place (CIP) models are quicker and easier to clean. You save time and energy when you buy a tank that you don't have to crawl into every time you want to clean it.
High-quality Stainless Steel Tanks Are Ready Now!
Why Choose Cedarstone Stainless Steel Tanks?
Below, we'll explain a few of the many reasons manufacturers choose to use Cedarstone Industry brewery tanks for their business.
Customer Service
There are quite a few places you can buy a decent tank. Granted, your options might not be a great as a Cedarstone tank, but they can suffice for a year or two. But with Cedarstone, you get exceptional customer service that extends far beyond your purchase date. If you need assistance at any stage of your business, we can help. If you have any trouble with your tank or any of our equipment, all you have to do is give us a call. We can troubleshoot and assist you with any issues. In no time, you'll be back to business as normal.
Experience
We've worked with many breweries and companies and would love to share our experience and expertise with you. Companies such as Coca Cola and Heineken use Cedarstone Industry tanks, so why shouldn't you? Many award-winning beers and life-saving medicines have been brewed in our tanks. We'd love to add your product to our long list of success stories.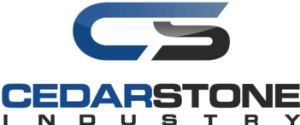 Custom Stainless Steel Tanks for Sale
Call Us Today!
Our stainless steel tanks for sale are hard to beat in terms of innovation, customization, and the range of options we provide. Call us today at (281) 397-3700 to learn more about our products, or contact us online. If we don't already have the tank you need, we can build it just for you.